2020 Trends for Your Hudson Valley Outdoor Living Space

Are you more and more focused on improving your family's outdoor living spaces? Decks, patios, walkways, and outdoor living spaces in general are increasingly important for Hudson Valley homeowners in 2020. It's no longer just deciding between decking or pavers; people want to recreate the luxury of their indoor living room on the outside. And it's far more than a fad. Busy families are embracing outdoor living spaces as the perfect place to reconnect with nature and each other. Neighbors are seeing how they can host backyard barbecues, but better. As the industry continues to grow and change, here are some of 2020 biggest trends in Hudson Valley outdoor living: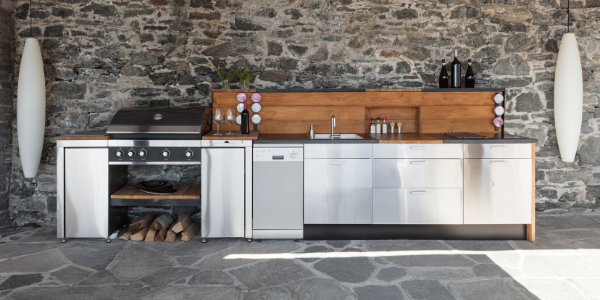 Outdoor kitchens are quickly becoming a must-have feature for homeowners across the Hudson Valley and its easy to understand why. Who wouldn't want to have a beautiful outdoor space to cook and entertain family and friends? To create the ultimate outdoor kitchen, consider adding features like a built-in grill, stove top, refrigerator, and a prep sink. If you want to splurge, you can might want to include a wine cooler or a pizza oven into the design of your outdoor kitchen. 
Whether you love the modern farmhouse look, charming bohemian style, or something more luxurious, keep color in mind. Beige, gray and white might dominate the overall color scheme for many Hudson Valley homeowners, but pops of color are a must! Blue is particularly popular right now, thanks to Pantone naming Classic Blue as its 2020 Color of the Year. Add a blue pillow to your outdoor couch, or throw a blue vase on the table. Want a more neutural look? Try planting brightly colored flowers in the area that surrounds your outdoor living space or swapping a pillow or two for accent.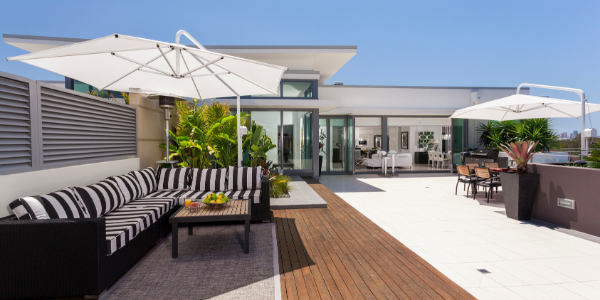 Some people don't want to escape from technology when they go outside; they actually want to take it with them. That's why smart appliances and outdoor-friendly entertainment options are becoming more and more popular this year. Outdoor televisions, bluetooth speakers, even electronically controlled umbrellas can all make outdoor living in New York more convenient. In the kitchen, smart technology is extending from inside your home to outdoor entertaining uses, like grills, smokers with wi-fi capabilities, and voice controlled speakers for music. Programmable lighting can also make it easier for you to relax and entertain after dark without fretting over cords and hard-to-reach outlets.
For small backyard ideas, a vertical garden can do double-duty. It can serve as a privacy fence and a beautiful aesthetic centerpiece. Another option is to use a retaining wall with built-in seating as raised garden beds. Depending on your space, you can have more than one — one traditional garden to grow your favorite veggies, and another for aesthetics. Climbing plants like ivy or flower vines can also accent a pergola. If a wall plant isn't in the cards, consider adding some actual art — like a painting or poster — to make your OC outdoor space feel just as inviting as your indoor living room.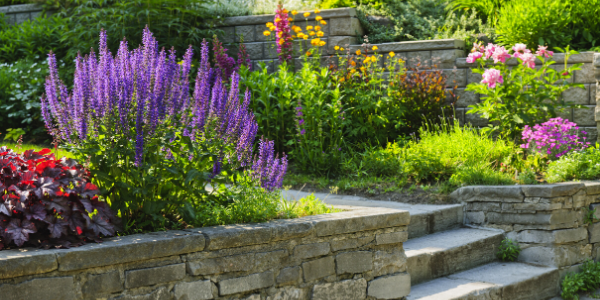 Everyone is going green in 2020! Mix and match different sizes and types of plants on a staircase to invigorate your home's look. Consider a design that highlights your yard's natural landscape, incorporating native plants and greenery. "Living walls," like those outlined in No. 4, are unique in an eco-friendly way. For lighting, consider solar-powered options that won't drain electricity. Even if you go with traditional lighting, some of the smart technology options mentioned in No. 3 include automatic shut-offs that help conserve energy, which has the added bonus of saving you some money on your electric bill as well as delighting guests.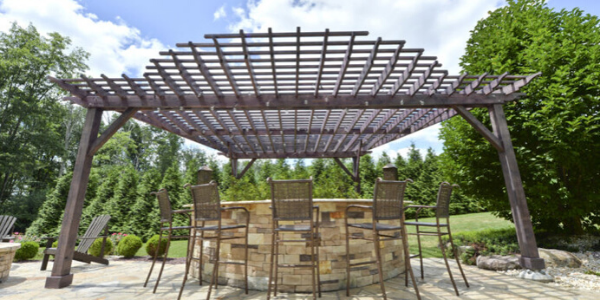 While they're not new to the landscape, pergolas are seeing a bit of a renaissance. Perhaps that's partly because of their versatility — they pair well with two current outdoor living trends that seem like opposites: luxury spaces and boho minimalist style. Some families are upgrading their outdoor living spaces into luxury stay-cation, spa-like atmospheres. Pergolas can be jazzed up with roll-down shades or heaters, or paired with a high-end kitchen for serious outdoor entertaining. Or, you can keep it simple with a Scandinavian-inspired minimalist design: a basic pergola, paired with a table and chairs made from natural materials. Add some lights for ambiance, and you're done.
Get your backyard ready for those cooler nights with an outdoor fireplace. Your whole family will enjoy relaxing and hanging out by the fire. Having an outdoor fireplace will also allow you to create a stunning focal point in your backyard. You can go with a modern stacked stone fireplace for a more contemporary look or something more country-inspired like a white farmhouse brick fireplace. There are endless options so you'll be able to find something to match the aesthetic of your backyard. 
8. Family time by the fire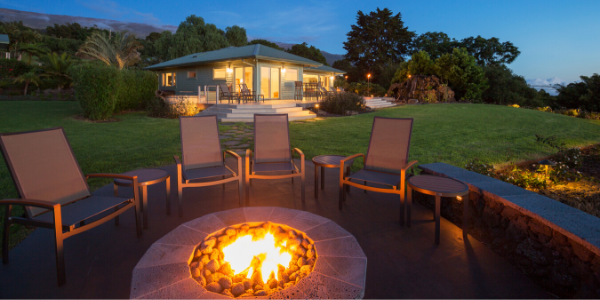 An outdoor fireplace isn't the only way to enjoy a fire outside. You can also have a firepit installed. A firepit will allow to create new memories with your family. Just imagine relaxing by the fire, roasting marshmallows, and watching stars with your loved ones. Firepits can be made from a wide variety of materials so there are many options in terms of color and finish. Sizes can also vary depending on your needs. 
If you know that it's time to transform your backyard, schedule a consultation with our experienced team. We can guide you through the process and show you how we can incorporate some of these amazing 2020 trends into the design of your new outdoor living space. You can also check out our complimentary eBook Your Guide to Outdoor Living for some helpful information and design inspiration!