Your dream outdoor living space has never been closer.  With 15+ years of experiencing building dream decks, pergolas, patios, porches, and everything in between in the Hudson Valley area, we're here to help YOU be the hero of your backyard.  Everything you need to know about building new or remodeling your current outdoor living space is right here.  It all starts with your dream – we're just here to help you plan and create the space you'll love for decades to come. 
From start to finish, you'll be working with the same team committed to accomplishing your goals on budget and on time.  No complicated certifications, permits, blueprints, maintenance, tricky warranties, or material selection.  Let the pros handle the details so that you can get back to what you love doing in your backyard – relaxing with the peace of mind that your deck is safe, secure, and certified.
Orange County Deck Outdoor Living Services
Custom Wood And Composite Decks
Maintenance-Free, 25-Year Warranty Starting @ $25,000
Custom Upscale, Lifetime Warranty Starting @ $45,000
Share your custom wood or custom composite deck dreams with us and we'll take care of the rest. We'll handle the safety inspection, design consultation, demolition if needed, and construction of your new space.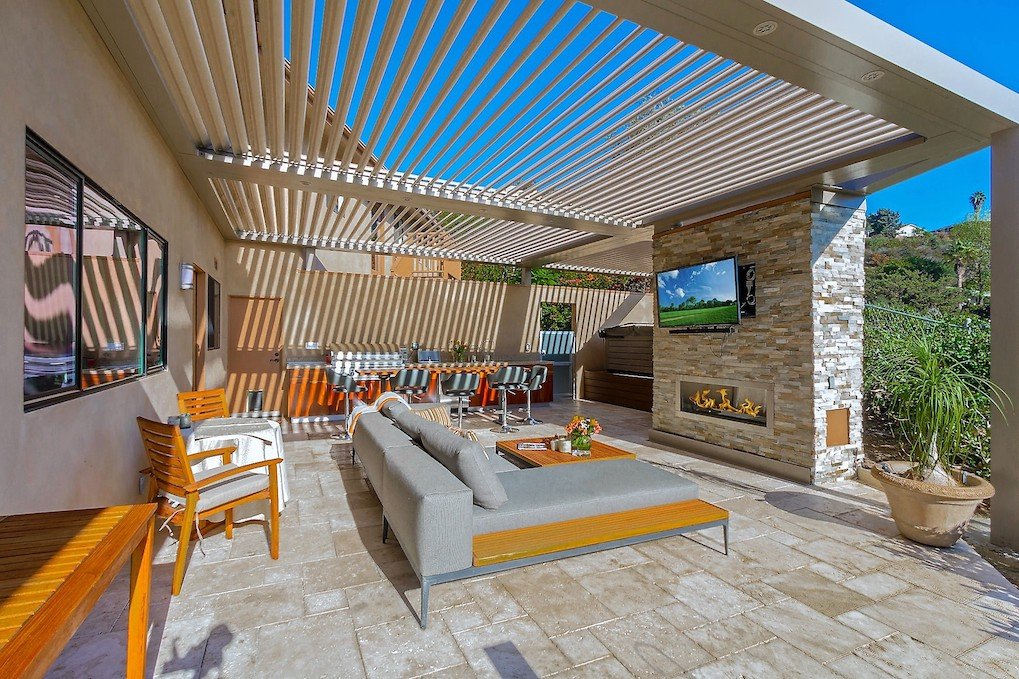 Custom Pergola And Pergola X with Smart Tech
Maintenance-Free, 25-Year Warranty Starting @ $25,000
Start standard or go crazy custom.  Whatever your heart desires, our team of experts can build.  We are the only StruXure Outdoor certified Pergola X builders in the Hudson Valley.  Let's add some weather proofing to your outdoor space with Pergola X's smart tech!
New Or Remodeled Patios And Porches
Patios and porches are the bedrock of American hosting.  Fall back in love with our dilapidated space by reimagining what it could be with a complete renovation.  If you don't have a patio or porch, our craftsmen can build a brand new space from scratch.
Looking for inspiration?
Why Our Happy Homeowners Choose Orange County Deck Co
Chris Kehoe epitomizes on-time, on-cost delivery of high quality workmanship. He is a perfect salesperson solely because he listens to the customer and turns their desires into reality.
Our Outdoor Living Space Remodeling Process Is Built Around You
Are you ready to love your deck?  There's never been a better time to add to or fix your deck, patio, porch, or pergola.  And we're here to help every step of the way – from drafting design plans to budgeting to completion.  Here's how!
Dream
Getting Started 
Begin your journey by reaching out to Orange County Deck Company via phone or online form
We will reach out to discuss further project details and schedule your consultation
Share your dream space with our expert team and we will provide the insight on the perfect materials and styles to turn your "before" into your "after"
Browse our  Project Spotlights to see examples of what your dream space can become
Plan
Your dream becomes our dream
Our team will capture measurements and photographs of where your before space
Our experts will draw up complete plans of your dream outdoor living space
Your dream doesn't have to cost a fortune – our team will create a complete project budget, and design/build contract tailored specifically to you
Create
This is your dream – we're just here to make it come true. This means constant communication between you and our team of experts is a must.
Pre-construction meeting
Construction meeting
Weekly meetings – schedule review
Reality – Remodeling project walk through and completion
Love
Stop delaying your dream. Choose your lifestyle backyard with Orange County Deck Company today! Our highly trained and certified craftsmen will provide you with the Hudson Valley outdoor living space that you've always imagined! 
Ready to get started?  Just reach out and kick off your Dream Phase!  Fill out the form on this page and we will reach out.