Deck 101 Part 2: A Guide to Decking Material
Deck 101 Part 2: A Guide to Decking Material
Decks and outdoor living spaces are an ever-popular option for homeowners, but how do you decide what decking material to use?
Aesthetics matter, of course, but as with any major project, your first consideration will be your budget. Different decking materials can vary widely in cost, both in what you pay up-front and long-term maintenance. You also will want to factor in the seasons. Here in the Hudson Valley, our homes go through cold winters, hot summers and everything in between — so you'll need decking materials that can survive in all seasons.
Here are our top choices for decking materials: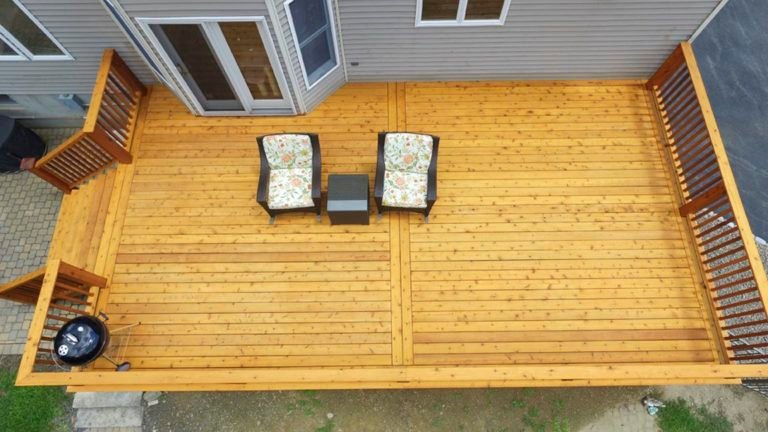 Wood
The original deck material, wood, continues to be a popular choice. The Hudson Valley has many historic homes, and real wood maintains the historic feel while adding a modern amenity many homeowners crave. It is organic and renewable, and can last a long time when properly taken care of. It is likely your most affordable decking option, though popular options like cedar have risen in cost due to wildfires hurting cedar production in the U.S. and tariffs driving up costs of Canadian imports. Other options, like tropical hardwoods, cost more up front but require less maintenance and last a very long time.
Synthetic (composite and PVC)
Composite decking options combine materials like wood, plastic and curb landfill waste. They cost more up front than wood, but last much longer and require less maintenance. The composites that we prefer, TimberTech and Azek, offer a variety of colors, many of which look almost exactly like real wood. The quality of these materials are top of the line and we feel comfortable recommending them to any family. Azek, for example, has increased its fade and stain guarantee from 30 to 50 years, and now offer a labor warranty. TimberTech also recently released a new line, Edge, which is priced more like real wood, giving homeowners a more affordable composite option and as a bonus, it comes with a 25-year warranty.
CONCRETE/STONE PAVERS
For ground-level decks, you may want to skip wood options and choose "hardscaping" instead. There are stone materials along a variety of price points with options you can customize. While concrete pavers may be expensive to start, they hold up well over time and need little maintenance. (No sanding or staining required.) Plus, stone is a natural material that can look just as good outside of historic or modern home designs, and is likely to improve your home's value over time.

Still not sure what decking option is the best for your home? Let us help! Contact us at 845-988-4644, or email us here.