Azek Building Products: Explore Our Top-Rated Decking Systems
At Kehoe Kustom, we perform deck additions, repair, and remodeling in Orange County and the greater Hudson Valley region. Today we wanted to share with you the decking systems we turn to for reliable all-weather performance in our region. Explore our top-rated decking systems, Azek and Timbertech.
Azek started in 2001, with the goal of providing a low-maintenance exterior trim that offered the benefits of wood without the expense or time-intensive maintenance. After conquering the exterior trim market, Azek expanded to decking with a line of cellular PVC decking.
Azek products are so beloved because they offer the look and feel of wood that's so characteristic of Hudson Valley homes. If you have a wood deck, you know how weathered and warped the surface can become if you don't invest in annual sealing or staining.
Azek's decking is coated with Alloy Armor, which delivers superior resistance to UV rays so your deck won't weather or fade. The coating also protects against scratching. Since the decking is wood-free, you won't have to worry about pest damage, termites, rot, mildew, or mold.
Families enjoy our decking because it doesn't get hot the way some composites do. There's no worry barefoot children will scorch their feet, for instance. Homeowners enjoy the low maintenance profile of Azek decking, as well as the wide array of color choices available.
Azek offers three decking collections:
Vintage – Engineered with board-to-board variations to look just like wood.  The Vintage line comes in mahogany, dark hickory, and cypress hues.
Arbor – Inspired by exotic hardwoods, Arbor features warm and earthy hues of Brazilian walnut, mountain redwood, hazelwood, silver oak, morado, and acacia.
Harvest – Engineered to complement on-trend home colors.  The Harvest line features soft neutrals slate gray, island oak, autumn chestnut, brownstone, and kona.
TimberTech has been a leader in the composite decking world for the last 30 years.    The Timbertech products blend real wood particles with plastic to create a product that has all the innate advantages of real wood decks with none of the hassle.
TimberTech deck boards are capped on every side, sealing the wood inside from the elements. Color and texture are locked in, so the deck will look as great years from now as it does right after installation. Since the planks feature as much as 73 percent recycled materials, they are an environmentally friendly option.
All TimberTech systems come with a 25-year limited warranty and a 30-year fade and stain warranty. Since the product is sealed by the manufacturer, there's no time-intensive staining or sealing required.
TimberTech offers three product lines:
Terrain – Warm earth tones of brown oak, rustic elm, stone ash, sandy birch, and silver maple harmonize with nature.
Legacy – Cool ashwood, pecan, mocha, and tigerwood tones affect a hand-scraped look that's popular for historic houses.
Tropical – Bold colors and striking grain variation mimics exotic hardwoods in hues of Amazon mist, Antigua gold, antique palm, and Caribbean redwood.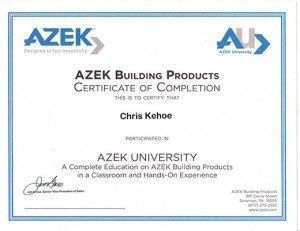 Get a Deck Repair Quote
Whether you want a deck addition to your home, or have an old deck in need of replacement.  We are here to help,   Contact us today!