experience for yourself!
New Hassle-free Orange County 7-Day Decks
Introducing our new line of decks.  The 7-Day Deck System is designed with just a few customization options for a streamlined online ordering experience.
Currently available in two sizes, with each size offering two height (or elevation) ranges and three finishes.  
All Decks Include…
  ✔ Fastest Turnaround for delivery ! 
  ✔  Build Time completed within 7 days or you get $250 a day credit
  ✔  Stamped architectural plans
  ✔ Permit, inspections & Construction
⬇ ⬇ Now for the Details ⬇ ⬇
Techno Metal Post Footings
✅ Includes stamped engineering report indicating load capacity
Pressure treated frame, built to perform with a robust frame
✅  2"x12" joist – all attached with screws   ✅ 
Glue-Lam girder 
✅ 
Joist hangers installed with structural screws 
✅ 
Blocking – for vertical load    ✅ 
Bracing – for lateral loads 
✅  
Flashing system to preserve the frame for longevity
Decking installation with a double picture frame border
One staircase
✅ May choose from 9 location possibilities 
✅ To rest on Bluestone pad, 2" thick
⬇ ⬇ And Most Important  ⬇ ⬇
5 Year Labor & Craftsmanship Warranty
You want a wood deck? We have pressure treated and cedar options available.
Treated Decks
All components are pressure treated

Decking will be screwed down through the face (top) of the board

Boards are installed tight together, once the lumber dries out the will be a gap

Finishing treatment will be needed once the lumber is dry.  This could take a couple months to a full year, depending on the season and your exposure conditions ( full sun / partially shaded / full shade )
Cedar Decks
Structural components (frame) is pressure treated

Finishes – decking, rails, stairs, trim are Knotty Cedar

Decking will be installed with hidden fastener system (Tiger Claw) and some face screws where needed, like the boarder pieces and stair treads

All hardware to be in contact with cedar is Stainless Steel
Don't want to worry about maintenance? No problem!
Our Azek deck packages offer the best performance in the industry. Built with the proper product knowledge, having attended their facility for training. These deck will likely outlast you. Enjoy your deck for a lifetime worry free with the full Azek warranty and paired with our 5 year Labor warranty.
Just start planning your parties!
Choose Decking From our 3 Featured Azek Collections: Select Decking to Match Your Style
Azek samples will be presented at the on site confirmation meeting.  We want to ensure you love the color!   This step will allow you to make a change if needed.
Harvest Azek Collection :
Vintage Azek Collection :
Save Time, Money, and Hassle
A custom deck can take 6-8 weeks from start to finish. The new 7-Day Decks streamline the process, saving time! Skip the headache of picking out all the tiny details and get back to enjoying your deck space with family and friends. 
The 7-Day Deck system was developed to get you enjoying your deck faster and save you money! That's right, we all know time = money. By saving time we save you $!
Feeling bogged down with options? Then the 7-Day Deck is designed for you! Choose from just a few options, and in a month you'll have a new beautiful deck. We will take care of the rest so you don't have to. 
Remember, scheduling is first come first serve. For the fastest turnaround, order your deck soon!
The 7-Day Deck Order Form
 * Deck images are computer renderings and will differ slightly from the collection colors. Kehoe Kustom will be conducting an on site verification for each deck order that will include architectural plans with the modifications selected in this form. 
Order Your 7-Day Deck Here
Time Line: What Happens Next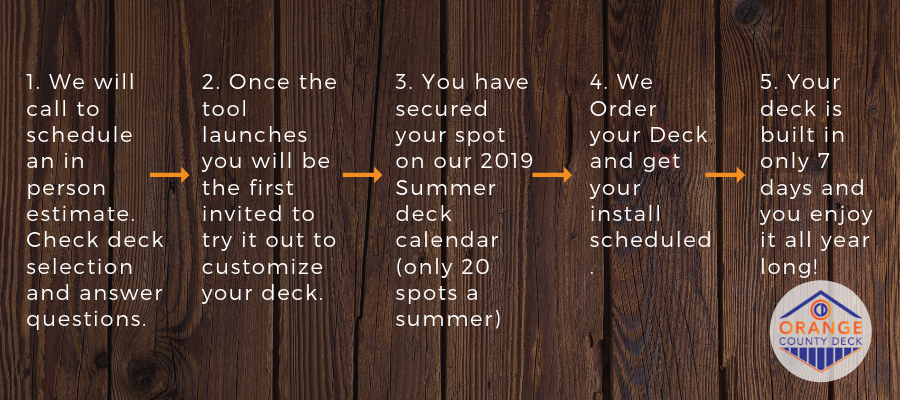 Questions? Contact Us Directly.