How Much Does a New Deck Cost in Orange County?
On any home project, cost is always one of the biggest factors for homeowners. So if you're looking at building a new deck around here, one of your first questions is probably…
 "How much does a new deck cost in Orange County?"
 The short answer is: it depends. Now, for the longer answer.
According to the remodeling Cost vs. Value report for 2019, a mid-range deck addition made from composite materials costs about $22,000 in upstate New York. The resale value is $10,045, giving you a 51.6 percent return on investment.
Typically, wood decking is cheaper than composite. At least at onset. The report says a mid-range deck addition made from wood averages about $16,000. Its resale value is about $7,820, for a 57 percent return on investment.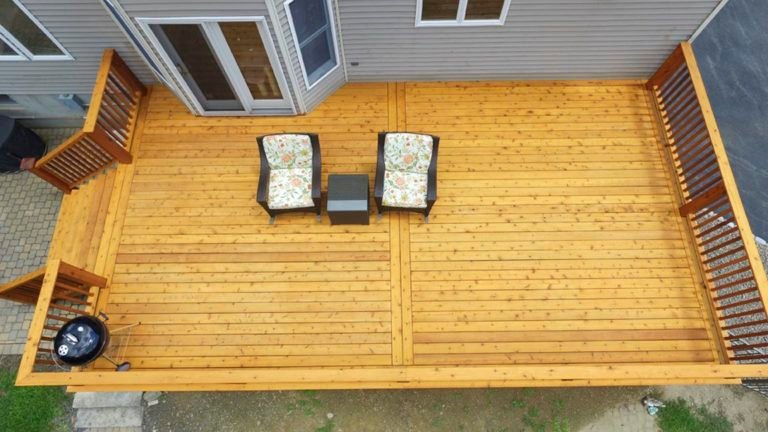 "What is the cost of a higher end Deck?"
 We see more upscale projects that tend to bump this number up to $30-35k for composite decking and $24K+ for wood and cedar.
Don't Forget, wooden decks, though beautiful, require diligent, regular maintenance — cleanings, annual seals/stains, etc. Stains don't last forever, though, and will fade. Some entry-level wood, like cedar, is prone to show scratches. Without proper maintenance, any type of wood can warp, rot or splinter. Even high-end hardwoods like mahogany or Ipe, under the best care, have a maximum lifespan of about 10-15 years  and cost more upfront than composite. Composite decking, on the other hand, can last much longer. So even though it's a little more expensive at first, you'll probably save money in the long run.
This means a homeowner will likely build two wood decks during the life expectancy of just 1 composite deck.
That's one of the reasons we love TimberTech and AZEK decking products. For starters, they don't just say their product will outlast others — they guarantee it. TimberTech Azek offers a lifetime product warranty, and a 50-year year warranty against fading and stains. TimberTech Pro offers 30-year warranties. TimberTech Edge (its most affordable line) provides 25-year warranties.
Depending on the materials, you likely could build nearly two wood decks for the cost of one deck made with synthetic materials. Not to mention all the time and energy you'll save on maintenance — time that could be spent actually enjoying the deck with family and friends.
Even if you don't end up staying in your home for 50 years, you'll likely gain that investment back when you sell. A high-quality deck improves the overall value of your home for you and future owners.
For more information: 
read our guide on decking material here. 
Still not sure what decking option is the best for your home? Let us help! Contact us at 845-988-4644, or email us here.