How Much Does a New Deck Cost in Orange County? [Updated 2022]

Building a custom or semi-custom deck has never been as popular as right now. On any home project, cost is always one of the biggest factors for homeowners. So if you're looking at building a new deck around here, one of your first questions is probably…
How much does a new deck cost in Orange County?
 The short answer is: it depends.
There are several factors to consider when asking how much building a deck costs, including:
cost vs value

longevity materials selected

maintenance

warranty

return on investment
Composite Decks in New York: Building Cost vs Resale Value
According to the remodeling 2021 Cost vs Value Report, a mid-range deck addition made from composite materials costs about $22,306 in upstate New York. The resale value is $14,250, giving you a 63.9% percent return on investment. In other words, if you plan on selling your home down the road then you will recoup nearly 64% of the investment you put into building or remodeling your deck.
Wood Decks in New York: Building Cost vs Resale Value
The 2021 Cost vs Value Report also states that a mid-range deck addition made from wood costs about $16,635 in New York. The resale value is $11,556, giving you a 69.5% percent return on investment. This is a 10% decrease from the 2020 Report – largely in part due to soaring lumber prices throughout most of 2021.
One thing the Cost vs Value Report doesn't take into consideration is the cost of maintenance over the next several years post-build.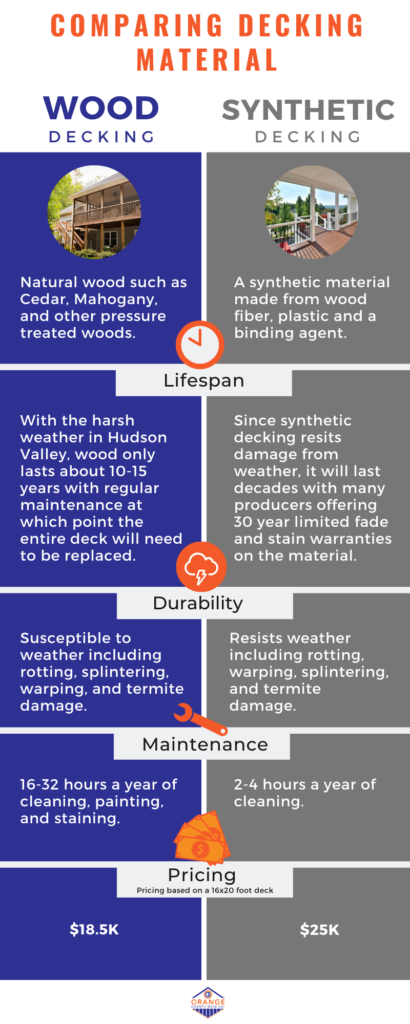 How much can I expect to pay over the next several years in maintenance for my deck?
Hudson Valley decks are subject to harsh weather depending on the season. Maintenance on your deck can take time and money if you want to keep it safe and in prime shape for years to come.
Maintenance Costs of a Composite Deck
Composite decking takes little to no maintenance. The best way to maintain a composite deck in Orange County, NY is with regular cleaning like sweeping leaves and debris weekly to prevent mold. You will not need to reseal or repaint your composite deck between seasons. Staying ahead of any damage is the best way to maintain a composite deck. If you choose a trustworthy decking material like Azek with Timbertech, you can enjoy your deck for a lifetime worry free with the full Azek warranty. If you choose Orange County Deck Co. then you can also pair that lifetime material warranty with our 5 year labor warranty.
➡ Check out this Timbertech Composite Deck Care Guide for more information on how to keep your deck safe and clean.
Hudson Valley area composite decks can last 30+ years with limited fade or damage despite our harsh seasons. You can expect to spend 2-4 hours a year on upkeep for your composite deck.
Maintenance Costs of a Wood Deck
Wood decks require regular maintenance, cleaning, and often repair. The best way to maintain a wood deck in Orange County, NY is through annual cleaning, staining, and sealing. You may have to replace warped or damaged wood planks. We also always recommend you rearrange your outdoor furniture to avoid uneven discoloration or mold.
➡ Here's a helpful wood deck maintenance checklist.
It's not uncommon to need to completely replace a Hudson Valley area wood deck every 12-15 years because of our harsh seasons. Wood deck maintenance can also take 16-32 hours of recommended upkeep time per year.
How much does a high end deck cost in Orange County?
Custom decks, by nature of involving more design, planning, and material options, cost more than a semi-custom or standard deck. A quality custom deck remodeler will be able to help you plan your entire outdoor living space layout, hardscapes, pool area, outdoor kitchen, landscaping, and deck – all based around your lifestyle. While these upgrades will increase the cost of your deck, they'll also increase your home's value (and your happiness). 
An average higher end custom deck costs $30-35k for composite decking and $24K+ for wood and cedar. If you include the costs of maintenance and repair, an Orange County homeowner will likely build two wood decks during the life expectancy of one composite deck.
What's the ROI of a new deck in Orange County, NY?
When you're making a large investment to improve your home, there's a lot to consider. Beyond just the price tag on a new deck, take into consideration your home's value, how much time you'll need to invest in maintenance, and how happy you'll be with a new outdoor living space.
ROI on Peace of Mind: Deck Safety and Warranty
One of the reasons we love TimberTech and AZEK decking products is that you can trust the quality. For starters, they don't just say their product will outlast others — they guarantee it. TimberTech Azek offers a lifetime product warranty, and a 50-year year warranty against fading and stains. TimberTech Pro offers 30-year warranties. TimberTech Edge (its most affordable line) provides 25-year warranties.
Depending on the materials, you likely could build nearly two wood decks for the cost of one deck made with synthetic materials. Not to mention all the time and energy you'll save on maintenance — time that could be spent actually enjoying the deck with family and friends.
Even if you don't end up staying in your home for 50 years, you'll likely gain that investment back when you sell. A high-quality deck improves the overall value of your home for you and future owners.
➡ For more information read our guide on decking material here.
ROI on Happiness: Building our Outdoor Living Space Dreams Into Reality
At the end of the day, you are building a deck that works for you and your family. This is the space where you will host book club meetings, grill for friends and family, and take Prom pictures. It's so much more than just a price tag.
Another thing the Cost vs Value Report doesn't take into consideration is the return on happiness that this investment will make on your life. If you love your current home and neighborhood and don't plan to sell your home any time soon, then it's important to weigh the cost vs value of building a deck as a means of value added to your happiness.
Next steps:
➡ Browse our custom deck options
➡ Start configuring your 7 Day Deck
➡ Download our Outdoor Living Guide 
➡ Book your design discussion at 845-988-4644.